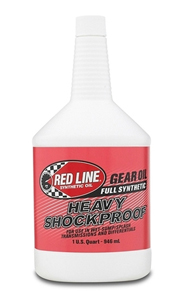 REDLINE Heavy ShockProof®, US Quart (946ml)
A film thickness greater than an SAE 75W250, yet low fluid friction like a 75W90. Intended for heavily-loaded racing differentials and transmissions or problem gearboxes. Not recommended for most synchro applications due to the product's extreme slipperiness.
Suitable for many performance racing applications like Sprint/Midget/Dirt Late Model Differentials, Detroit Lockers and spools, NHRA Top Fuel and Funny Car rear ends.
Ester base stocks and friction modifiers provide additional slipperiness to lower operating temperatures by reducing the sliding friction in hypoid gears.
Price: $32.36
News & Special Events
Driver Training 1 - 2023
March 25-26 & April 1-2
CACC Race #1
April 29-30, Mission Raceway Park
CACC Race #2
May 27-28, Mission Raceway Park
important notice: due to exchange rate volatility, prices are subject to change without notice