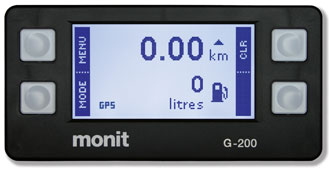 The top of the range G-200 model has all the features required for the highest level of competition. The main advantages over the G-100 are the addition of a time-of-day clock, average speed, fuel management system and handy stage recorder. For competitors that demand the most from their equipment, the G-200 is the ideal choice.
Monit G200 Rally Computer Features:
option of using GPS+ and/or WSS speed inputs
accurate distance counters
current, average & maximum speed readings
calibration wizard
fuel Management System
2 x programmable foot-switch inputs
dimensions: 116mm x 57mm x 20mm
weight: 100g
price: $899.00 CAD
News & Events
British Columbia Historic Motor Races
August 19th and 20th at Mission Raceway Park
ICSCC
September 2nd to 4th at Mission Raceway Park
CACC #6
October 14th and 15th at Mission Raceway Park
DUE TO EXCHANGE RATE VOLATILITY, THE PREVAILING PRICE IS DETERMINED BY THE USD PRICE MULTIPLIED BY THE CAD EXCHANGE RATE.