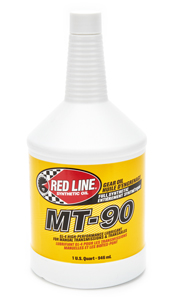 REDLINE MT90 75W90 GL-4 Gear Oil, US Quart (946ml)
Recommended for GL-1, GL-3, and GL-4 applications as well as where most special synchromesh fluids are specified. Safe for brass synchros, as it lacks the reactive sulfurs found in most GL-5 oils that cause damage. Not for use in differentials with hypoid gears.

Satisifies the gear oil viscosity requirements of 75W, 80W and motor oil viscosities of SAE 40, 10W40, and 15W40. Popular in Nissan, Mazda, Mitsubishi, VW/Audi, Lotus Elise/Exige & Toyota.
Price: $31.19
News & Special Events
Driver Training 1 - 2023
March 25-26 & April 1-2
CACC Race #1
April 29-30, Mission Raceway Park
CACC Race #2
May 27-28, Mission Raceway Park
important notice: due to exchange rate volatility, prices are subject to change without notice