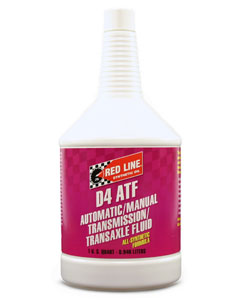 REDLINE D4 Synthetic ATF, US Quart (946ml)
An ATF for use where Dexron III®, Dexron II®, Mercon® and Mercon V® fluids are recommended. Popular applications: Honda ATF Z1, Mazda ATF M-V, most BMW, Audi, VW automatic transmissions. Also provides a GL-4 level of gear protection and is also used with manual transmissions and transaxles like T-5, T-45, T-56 and late-model BMW.

The superior stability compared to petroleum ATFs allows high-temperature operation without varnishing valves and clutches which leads to transmission failure.
Price: $22.91
News & Special Events
Driver Training 1 - 2023
March 25-26 & April 1-2
CACC Race #1
April 29-30, Mission Raceway Park
CACC Race #2
May 27-28, Mission Raceway Park
important notice: due to exchange rate volatility, prices are subject to change without notice