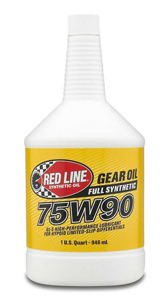 REDLINE 75W90 GL-5 Gear Oil, US Quart (946ml)
This product is not designed for use in most manual transmissions or transaxles in passenger vehicles, since the extreme slipperiness may cause synchronizer mesh issues that lead to shifting problems. Contains additional friction modifiers for suitability with clutch-type limited slip differentials - for most LSDs, no additional friction modifiers are required.

Ester base stocks and friction modifiers provide additional slipperiness to lower operating temperatures by reducing the sliding friction in hypoid gears. Recommended for API GL-5, GL-6, MT-1, MIL-L-2105E, SAE J2360, and Chrysler spec MS-9763.
Price: $31.77
News & Special Events
Driver Training 1 - 2023
March 25-26 & April 1-2
CACC Race #1
April 29-30, Mission Raceway Park
CACC Race #2
May 27-28, Mission Raceway Park
important notice: due to exchange rate volatility, prices are subject to change without notice