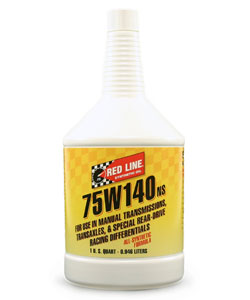 REDLINE 75W140 NS GL-5 Gear Oil, US Quart (946ml)
Contains extreme pressure additives like a 75W140 GL-5 oil, but lacks friction modifiers to balance slipperiness. Popular for historic and vintage transmissions, like Mid-1930s to early-1950s synchro-equipped gearboxes in cars and trucks. Can be used as an option for noisy transmissions when mixed with 75W90NS or MT-90 to bring viscosity level up.

Also used in clutch-type limited slip differentials in racing for maximum lock up-some users add Limited Slip Friction Modifier in small doses to customize slippage.
Price: $31.77
News & Special Events
Driver Training 1 - 2023
March 25-26 & April 1-2
CACC Race #1
April 29-30, Mission Raceway Park
CACC Race #2
May 27-28, Mission Raceway Park
important notice: due to exchange rate volatility, prices are subject to change without notice