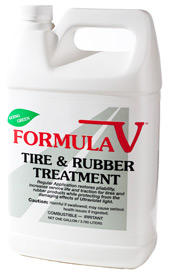 Formula V Traction Treatment
Save your heat cycled tires and restore their performance with Formula V traction treatment.
- Formula V extends the life of tires
- Replenishes ingredients lost to heat cycles
- Allows more heat cycles that otherwise possible
- Keeps tires fresh and increases racing speed on all surfaces
- Formula V will not wash off
Formula V traction treatment is biodegradable when dry and will NOT harm road surfaces. An inexpensive way to extend the life and performance of your tires.
Please note: This item is availabe for pick up in store only.
Price: $49.95 Cdn
News & Events
PACIFIC FOREST RALLY
October 13th - 14th
BIG WHITE WINTER RALLY
December 8th - 10th
Closed for the Holidays!
December 24th - January 6th
DUE TO EXCHANGE RATE VOLATILITY, THE PREVAILING PRICE IS DETERMINED BY THE USD PRICE MULTIPLIED BY THE CAD EXCHANGE RATE.