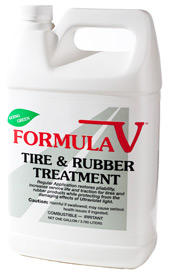 Formula V Traction Treatment
Save your heat cycled tires and restore their performance with Formula V traction treatment.
- Formula V extends the life of tires
- Replenishes ingredients lost to heat cycles
- Allows more heat cycles that otherwise possible
- Keeps tires fresh and increases racing speed on all surfaces
- Formula V will not wash off
Formula V traction treatment is biodegradable when dry and will NOT harm road surfaces. An inexpensive way to extend the life and performance of your tires.
Please note: This item is availabe for pick up in store only.
Price: $49.95 Cdn
Store Closure Dates & Special Events
SCCBC/CACC Race 4
July 14-15, STORE CLOSED
SCCBC/ICSCC Race
July 27-29, STORE CLOSED
VRCBC/BCHMR Historics
August 17-19, STORE CLOSED
DUE TO CANADIAN DOLLAR EXCHANGE RATE VOLATILITY, PRICES ARE SUBJECT TO CHANGE WITHOUT NOTICE